Make Clean Your New Amenity
The UV Station Bedside Clock is the ultimate sanitation station for hotel guests. Offering them UV-C disinfection for all their high touch surfaces, gives them an extra amenity they never knew they needed. Showcase an investment into cleaning technology with the UV Station to give guests reassurance and peace of mind the moment they walk into the room.
UV Station Features
Fits over 90% of remote controls used by the hotel industry
Capable of sanitizing all mobile phones available on the market today
Kills 99.999% of germs with seven 10,000 hour UV-C Bulbs, a full plated reflective sanitizing chamber, and translucent quartz plate
Features wireless charging and USB outlets
Comes in white and black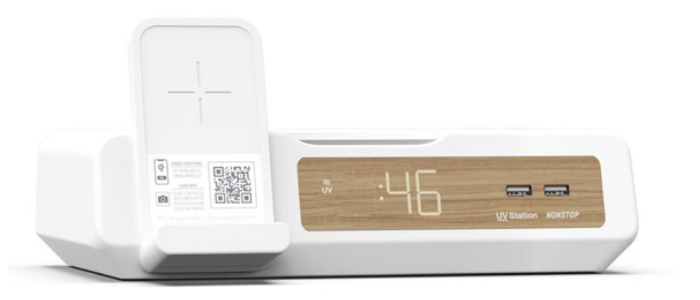 Why Clean with UV?
UV light is known for its infection control capabilities. It can destroy drug-resistant bacteria, viruses, harmful microorganisms, and chemical-resistant parasites in a fraction of the time it takes other cleaning methods. Its abilities can help multiple industries in a variety of ways. House cleaning staff can now sterilize rooms in minutes, giving hotels the opportunity to keep more rooms open for booking. Hospitals and assistant living facilities can stop viruses in moments before they begin to spread. Banquet halls can disinfect their entire space overnight as their staff focuses on other preparations for events. The efficiency benefits alone are endless.
Other Benefits...
A dry disinfectant that can eradicate mold spores without fungi developing
Nontoxic solution to infection control and sterilization
Light powered sanitization is environmentally friendly
Eliminates the need for chemical refills making it a cost effective alternative
UV cleaning is safe, effective, and efficient.
Incorporate it into your business today.