The Desire for Contactless Interaction
The world today looks a lot different than it did 2 years ago. People are more conscious of how they interact with one another and care more about their health and well-being than ever before. So what does this mean for the hospitality industry?
It means guests are looking for ways to keep themselves and their families safe without having to sacrifice living their lives as before. They want all the pre-pandemic amenities, but they want them without risk. Hoteliers want to be able to cater to this shift in mindset, but are struggling to deliver due to the global labor shortage. So how can they give their guests the full hotel experience while also operating with minimal staff?
Delivery robots are the perfect solution.
Catering to a New Mindset
The T4H Delivery Robot gives hotels the ability to serve their guests conveniently and efficiently. With a touch of a button on their phone, guests can order anything from a toothbrush to breakfast in bed. Fresh towels can now be at their door in minutes. Guests will love the novelty of opening their door and coming face to face with a delivery robot — increasing guest satisfaction and revenue.
The T4H can now deliver linens, pantry items, room service, and even take outside food orders to guests so they do not have to be called downstairs for pick up. The T4H becomes the runner so front desk workers can stay the welcoming face of the business while offering the contactless delivery that guests are so eagerly seeking.
T4H Features: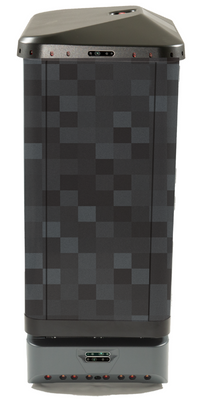 Autonomously delivers room service, outside food orders, linens, pantry items, and more
Summons and operates elevators all on its own
Customizable exterior
Carries up to 150lbs.
24/7 remote monitoring service
Compartments are self-contained and configurable
Built on a proven navigational platform
Stainless steel shelves and door dividers
Equipped with a touchscreen and barcode scanning
Customizable ordering and fulfillment browsers
Travels down guest hallways sideways to allow for optimal walking space
Easily removeable spines in each large compartment allowing 2-4 individual guest orders
Large compartment dimensions: 29"W x 17"D x 13.5"H
How Does it Work?
Guests scan the barcode in their room and order whatever they need. They can also call down to the front desk to order or ask to have their outside food delivered to their room.
Guests can track their orders so they know exactly where they are.
The guest orders then come through the browser at the front desk which notifies the staff member.
The staff member fulfills the order, loads the T4H, sets the room destination, and sends it on its way.
Guests are notified and sent a pin code/QR code to use when their order arrives.
Once the order arrives, guests scan their code, the door to their order is unlocked, and the T4H is on its way to its next destination.
That's it.
SAFE. SECURE. EASY.