Why Care About Pure Air?
If water filtration matters than air purification should matter too.
Compared to the 15,000 quarts of air most people inhale in a day, the 2 quarts of water consumed in a day don't seem as big. So why has the focus been solely on what people drink and not what they breathe?
People spend up to 90% of their time indoors, but indoor air can be 2-5x more polluted than the most polluted outdoor air. The Environmental Protection Agency (EPA) has actually ranked indoor air pollution among the top 5 environmental dangers facing the public today. Containing more than 900 chemicals, particles, and biological matters like Volatile Organic Compounds (VOCs), ammonia, mold, and radon, it is no wonder that indoor air can have a drastic effect on someone's health.
Since COVID-19 hit, hotel guests in particular want the reassurance that their health and well-being are of top priority. Give them the piece of mind they are looking for with a state of the art air purification system. Most air purifiers just trap infectious microbes and toxic chemicals...Molekule destroys them.
PECO Air Purification Process
"By combining PECO nanotechnology with high-efficiency filtration and air quality sensors, Molekule air purifiers can capture particles found in smoke, while detecting and destroying pollutants 1000 times smaller than the standard filters must meet to qualify as HEPA. (High Efficiency Particulate Air Filter)"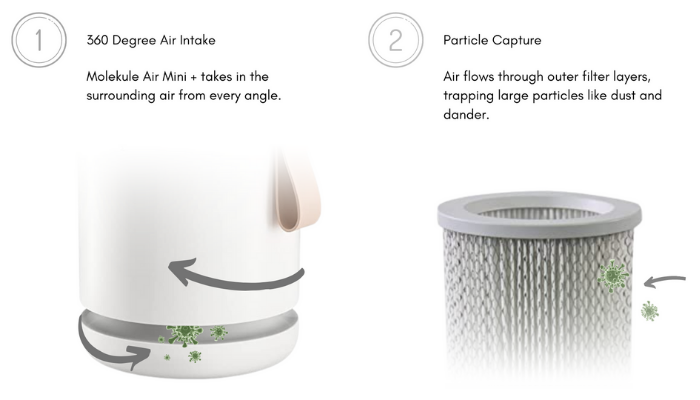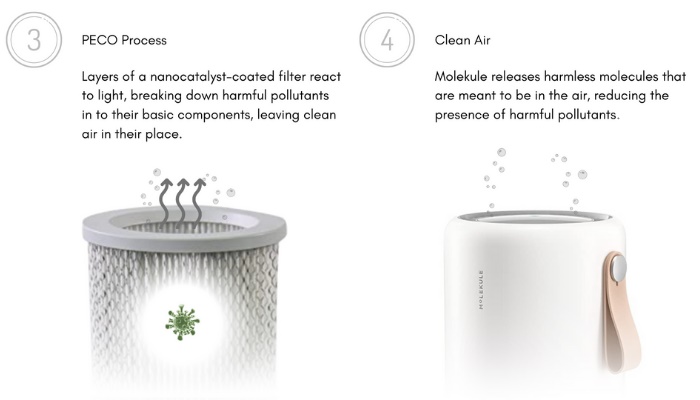 Molekule Destroys...
SARS-CoV-2

(Covid Variant)

H1N1 Influenza

(Swine Flu Virus)

Pollen

(Windows, Doors, Carpets)

Dust Mite Allergens

(Mattresses, Blankets, Pillows)

DNA Viruses

(Throughout Nature)

Black Mold

(Window Frames, Inside Pillows)

Bacterial Spores

(Spoiled Food, Bathrooms, Kitchens)

Tobacco Smoke

(Formaldehyde)
Cockroach Allergens (Trash Cans, Cupboards, Cabinets)
Pet Dander (Carpets, Floors)

Staphylococcus

(Skin, Mucous Membranes, Soil)
And More...
Protect Guests
Now more than ever, it is crucial for businesses to set themselves apart in regards to safety protocols. Molekule's sleek and modern design helps it blend right in making guests feel comfortable and safe without sacrificing style. Demonstrating just how much guest health and well-being means to a company could very well be the deciding factor between that company and a competitor.
It is time to showcase cleanliness.
The following hospitality companies have already showcased their cleanliness in the form of air purification. Click below to listen and watch their testimonies...
Ocean House in Rhode Island
contact us for more information
Help guests breathe easy today.